Proverbs 3v27
New Living Translation
"Do not withhold good from those who deserve it when it's in your power to help them".
It sounds like I am going to church on this one; it is with the highest regard I continue my month's journey of gratitude in the realm of love. When you love what you do, others benefit and that certainly is the case as I continue to share my story which has led to me starting from the beginning.
Last week I mentioned Karen Hillyer Chair of Erb's Palsy Group UK because her expertise and knowledge is the support that led me to the next phase of a long successful journey. I didn't realise that at the time but the advice received when I was literally on my knees in anguish hurt and emotional pain gave me the knowledge that I needed started me on the journey to understanding what Erb's Palsy really is from a mother who has experienced the journey herself and helping other parents to find the solutions out there for Erb's children.
Karen informed me over the phone the two hospitals that specialise in severe brachial plexus injuries and gave me the name Professor Thomas Carlstedt. Karen told me I must put it in writing a letter to my GP for a referral to RNOH to see Professor Carlstedt. I jotted down the key points, still on my knees in prayer position on my bed making my request known. Feeling a sigh of relief because I was not crazy, I knew there had to be more out there. At this point in my young life, I wasn't thinking of myself, naturally, when you have a child you do put their needs first, with a child with medical needs there is so much more as there is one appointment after another on and on it's a lot.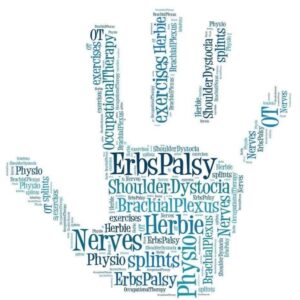 So, I wrote the letter many times over, I still have a copy of that same handwritten letter trying to make it perfect. Others would have taken the next step to get an envelope and a stamp and post off the letter, not me. I called and made an appointment for my GP to see my daughter so I could hand deliver the letter myself. At this point it was the first time from the whole experience started that I felt like I was in the driving seat because of the support from Erb's Palsy Group UK. All along I felt I was being dragged along like a battered donkey, unhealed from wounds of the delivery, it was no wonder I fell head first into depression, not knowing what it was but having awful feelings inside that the only strategy I could come up with then was to numb the pain. Every now and then rage reared its ugly head but majority of the time I was oblivious and did what mothers do, care for your child.
The GP read the letter he was not happy; he said a lot of things upsetting to me as though I am being ungrateful towards the service given for 18 months. I want a 2nd opinion, no offence to the service but I felt my daughter was not making the progress in the timescales given. Rage was snappy that day and I like to think I expressed the concerns I raised now feeling as though in a place of power with the little knowledge I had. I was specific with my referral request; I was told to get out of the surgery with my child when I responded to all his babble "if the cap fits". I had not known another GP practice it was the family surgery, I left knowing that I would no longer have to deal with people that do not know how to talk to me. This is an especially important part of the story because I am highlighting how some professionals can act appallingly, yes, I am calling it out today. I have experienced both sides of the coin thankfully and I am grateful for the experience because from this point on our journey gets better thanks to Karen Hillyer Chair Erb's Palsy Group UK.
I registered with a new GP practice at Dr Bath Surgery who has been kind to us ever since joining, I'm grateful I moved and he has taken care of me and my family over the years and for that I am truly grateful. I received an appointment in the post to see Professor Carlstedt I was so happy. I had the task of traveling to London by train with a toddler very unbalanced on her feet, much easier to go around with a buggy but the London Underground isn't the easiest to manoeuvre around some how we made it. The RNOH by Great Portland Street was not the same new build you see now. In the waiting area it was like a gallery of enormous pictures and a little play area with toys. My daughter and I waited to be called in. We both walked in and was greeted with a smile and handshake to us both and he asked me how I was, lying I said fine. He asked me how my journey was as I see your not from the area, I said it wasn't to bad, lying again, it was a struggle, but this is what I asked for. 
Once I was relaxed Professor Carlstedt sat at his desk. He asked me to take my daughters top clothes off and keep her vest on. Dressing and undressing an Erb's baby is not like other children as you must be mindful of their limitations and restriction of movement in their arm. At this point mind you I hadn't finished undressing my daughter as Professor Carlstedt observed the steps I had learnt to protect the left shoulder and said "your daughter has a primary dislocated shoulder and secondary Erb's Palsy". I fell out the chair onto my knees and let out a massive cry, I was holding onto my daughter and bawling, looking back he must have wondered what the hell is wrong with this woman. I composed myself sitting in anger with my head flapping, feet tapping because I'm, vex, mad and extremely upset and bless, Professor Carlstedt he allowed me to have my moment, this was our first encounter. He explained the type of injury she has suffered and said she would need surgery. I asked how comes the dislocation was not picked up sooner by the consultant from birth, the physiotherapist, and the GP. Professor Carlstedt never answered my question but with hesitation in his tone he said the only problem is the waiting list is 3 months, with tears in my eyes I agreed to the surgery and dressed my daughter and left more distressed than I went in.
We travelled back home, and I am thinking to myself I have got to tell my parents that my daughter has a dislocated shoulder from birth, how the hell am I to tell them that. As I turned onto my street pushing my daughter in her buggy up the road my mobile phone started to ring. A London number appeared that I did not recognise, and a Swedish voice said hello is this Ruth, I answered yes curiously. It's Professor Carlstedt you've not long left your appointment with me today, oh yes I said because my mind left and went back to auto pilot to gear myself up to face my dad and break his heart with the news about his granddaughter.  Have you reached home, he asked, and I said not yet, he said good, I have some good news for you can you talk for a moment? I said sure, I stopped halfway up the road to my front door and stopped to hear what Professor Carlstedt had to say. Ruth, I can do your daughters surgery in 3 weeks time at The Portland Hospital at no cost to you, I will do the surgery and put your daughter shoulder back in place and I will also start the surgery to treat the Erb's Palsy". He had me going again but this time it was tears of joy and excitement. It was like although Professor Carlstedt watched my dramatic performance in front of him across his desk and took pity on me. It was like from where he sat, he metaphorically reached out his hands to help me. I am profoundly grateful for your care towards me that day to help my daughter. I am grateful to you and your knowledge and expertise.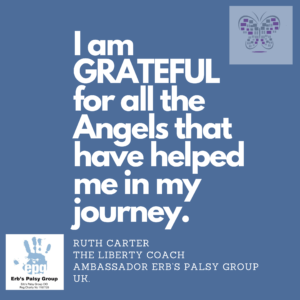 While you were at RNOH you treated my daughter several times over the years as she grew and handed the baton to your team of experts, I am grateful you've all done superb and I plan to give honour where it is due. You've also supported us through the legal phase and for that I am truly grateful, the last time I saw you, you looked well and although I shook your hand deep down I wanted to give you a massive hug. I do hope you get to read this one day because I am grateful. I have thanked you many times in person but today I honour you Professor Carlstedt you are a true angel of light to those who have been through dark periods. Thank you for picking me up, educating me, supporting me, taking time with us and all the things you have contributed over the years. I will never forget you Professor Carlstedt. I eternally wish you well. Lots of Love and Light Ruth Carter The Liberty Coach.
You can leave your comments on the Parenting Live on Facebook and YouTube at 8 pm, leave a comment on my Instagram page or email me directly at ruth@thelibertycoach.com.
Thank you for reading my blog.
Click Here to View The Video That Accompanies This Blog Post Where Ruth Shares Her Experience & Favourite Techniques With You- To Help Improve Relations At Home By Discussion and Examples Of Methods and Strategies Developed Around Strengthening Families Strengthening Communities Core Concepts and Goals.
Ruth Carter The Liberty Coach.
Follow me on Instagram. Facebook, Twitter & Website