Today's discussion is with the fabulous Sharon Fevrier Author of Blossom Tree and Special Educational Need Specialist who will be discussing on the topic of Her writing journey, medical needs and giving tips to parents with children who may need an assessment to help them through school.
Every blog is written features a Live discussion streamed On StreamYard to The Liberty Coach Facebook Page and YouTube channel. The live link also features at the bottom of the blog after the show.
Sharon Fevrier is a mother and first-time author based in South-East London. Having worked in Children's Services within Local Authorities for seventeen years, Sharon currently holds a role in Special Educational Needs and is passionate about helping people progress and find solutions to adverse situations they are faced with.
Sharon was inspired to write this novel based on some of her real-life experiences of the twists and turns of love and life. One main motivation was to encourage others to take heed of the red flags in relationships that so often pass them by and to remind them that if they miss them, they can always restore balance through persistence to preserve their true essence.
Her essence is resilience, independence, and positivity all of which saw her rise above the challenges that were thrust her way when she developed visual impairment as a consequence of sickle cell disease. She is committed to raising awareness of both conditions and the impact it has on the individual and their loved ones. With her passion for supporting others to rise above their situations, to strive towards a solution-based approach to problems and to realise their greater potential, Sharon's aim is to inspire you to create a crystal clear vision of the life you want and deserve and to set about making choices that reflect that vision. It is through her own crystal-clear vision for her own life that she gave birth to her first novel, Blossom Tree.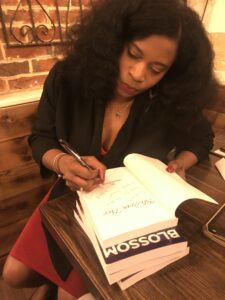 I have known Sharon Fevrier my entire life it seems, there are 6 months between us and a day's difference to the day we were born, Sharon is the 18th and I am the 19th. I recall being incredibly nervous on my first day of nursery many many moons ago, but I gravitated to a lovely smiling, a giggling girl with big bunches and ribbons in her hair. Sharon is my lifetime friend and we go way back from nursery school, primary and secondary school. Our further education journeys took different paths, but we remained friends throughout.
Who would have known then that our friendship would have lasted over 40 years strong and still going even when challenges presented itself, it seems the love of a true friend held much strong than any enemy could divide and for sure there was an energy that emerged years later who made attempts to break our friendship up but it stood the test of time. For that I am profoundly grateful, I have watched Sharon achieved many victories in life whilst managing her own medical needs and in her career, paths helping children with learning and medical needs.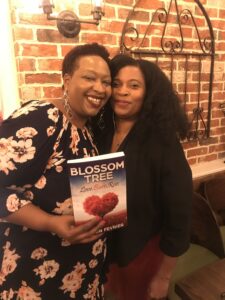 Sharon's parents and my father come from the same Island of Dominica, over the years we have travelled back and forth to see family members. One year, in particular, Sharon and I were in Roseau with our children and had arranged to have lunch in KFC, it was then Sharon first spoke to me about the idea of writing a book and gave me an outline of the concepts that she would like to put in the book. I was blown away by the idea but seemed very practical as Sharon is very much into academia and was top of the class. It took some time but slowly and sure Sharon spent her moments writing and then the time came when she asked me to read the draft. Well I couldn't put the book down, I kept calling to see what is this about, Sharon reminded me a thousand times that it a Fiction book but it seemed way too real for me because I could resonate with the characters especially Rachel. Overall, it is a masterpiece and well worth the time it took to book the book together. My emotions were all over the place from laughing, getting vex, shocked and feeling of victory flooded my soul.
Sharon has hosted her own book launch, put on relationship event, and spoke on several platforms about blossom tree. Have a look at Sharon's last Interview on Medianet.
Tonight Sharon has a superb offering of a free copy of her book to the lucky person who can answer the quiz on the Live tonight. Sharon will be helping parents with any SEN related questions and we get to hear how she successfully wrote her first book with her medical challenges. What I have learnt from my dear friend is not to give up. I've certainly enjoyed the support the love, friendship and guidance and I'm looking forward to reading much more from Sharon in the future. If you would like to get in touch with Sharon, her website visit www.sharonfevrier.com.
You can leave your comments on the Parenting Live on Facebook and Youtube at 8 pm, leave a comment on my Instagram page or email me directly at ruth@thelibertycoach.com.
Thank you for reading my blog.
Click Here to View The Video That Accompanies This Blog Post Where Ruth Shares Her Experience & Favourite Techniques With You- To Help Improve Relations At Home By Discussion and Examples Of Methods and Strategies Developed Around Strengthening Families Strengthening Communities Core Concepts and Goals.
Ruth Carter The Liberty Coach.