Emotional rite of passage features in session 6 at this time we are approaching the midway of the SFSC Parenting journey to a violence-free healthy lifestyle. At this point of the program, I've witnessed with Michelle Burton many parents start to turn a huge corner in their personal lives as well as their parenting.
Some of us as parents are guilty of shaming our children to others when they misbehave and sometimes rarely share the good news and success. "Energy flows where attention goes" is a quote from Tony Robbins and our focus at times is on the negative side but there are so many variables when it comes to how we express our emotions and how we allow our children to express theirs.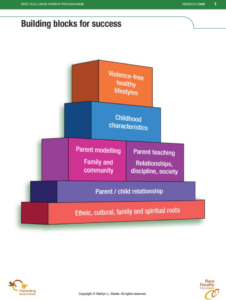 Facilitating the parenting program allows Michelle and me the opportunity to use our NLP skills to enhance the learning experience. It's 13 weeks of change and development to enhance the relationships in the family home. Families come with so many different challenges and experiences that will impact on our behaviour and how we respond. As humans, we respond from an emotional place to situations and how we do it is learned from our homes.
I've been fortunate to have experienced a variety of roles in the education profession but for the last 6 years my main focus has to bring about positive change, meaning the negative side can no longer continue, I'm talking about the feeling of constant noise and shouting, facing the aggression from your children, the disrespect and disregard for others in the home all that is being driven by emotion.
Children are not their behaviours they are their environment is an NLP Presupposition that allows me to work successfully with children to create behaviour change and on the flip side, I help parents to enhance their lives and the relationships they have around them.
So how do you feel about yourself first? How do you feel about your family? Do you even like your children? These are questions I've asked myself and based on how I'm feeling at that time. To answer my questions I'm feeling alright at the moment, life has thrown me a curveball but I'm in a position of learning new things such as blogging and doing Live videos, I recognise I'm doing the opposite of what I previously was doing. I'm in a good place with my family, my children are well, my daughter is in Paris following her pursuits in fashion for a few days and my son is looking for a part-time job on the construction industry to support his theory when he starts college in September. I'm in a good place with my siblings, parents and friends, life is good. I love my children, I love them so much that I'm babysitting my daughters 1-year-old cat Versace. I had to do the phobia cure because I didn't like cats at all, that's from childhood trauma, 1 trauma I remember and the other was told to me. I love the cat now she has imprinted on me and when she leaves I cry. Through this story I've listed quite a few emotions, can you imagine how your children feel or even how you felt when you were younger and how were you able to express your emotions. Think about that for a moment.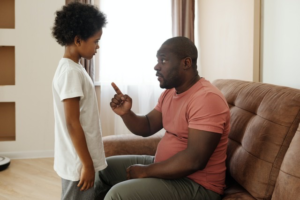 Every household is different and it's happened to me and I've done it too, told my children to stop crying, or I will give you something to cry about, for me is coming from a place of frustration. I've told my children to shut up, coming from a place of being fed up. When I say I was doing it all wrong I was, I can admit that because I was emotional back then and going through the parenting program myself allowed me to take a closer look at home. I was so angry back then it prohibited my children from expressing their emotions and talking to me. I knew I had to get this right otherwise I'm gonna F@&K up my children that were not my family vision. For me, as I began to address my emotions of past trauma through counselling, NLP & Hypnotherapy I was able to gain more resources and more useful states that helped me, plus I began to model from Michelle who is the complete opposite to me and lately, she has been modelling me.
The use of language is great when I see the behaviour change towards the negative side I say use your words, so they can think and tell me how your feeling? Allowing them to link words to the emotions that they feel so we can 1. Talk about it 2. Resolve it. 3. Release/express it safely. Let's take a look at the steps the SFSC has to offer parents of which I'm always happy to facilitate for parents.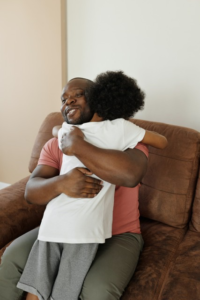 The Steps to Emotional Rite of Passage from SFSC.
Step 1 – Help your child understand the value of empathy and develop this ability.
Step 2 – Help your child understand the value of managing anger and develop this ability.
Step 3 – Help your child understand the value of solving problems and develop this ability.
Step 4 – Help your child learn to initiate, develop and sustain relationships with various people in the community.
Elders, adults, younger children, peers.
Step 5 – Help your child develop and manage romantic relationships.
Step 6 – Help your child develop into a whole being.
Spiritual, emotional, physical, mental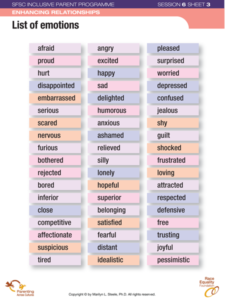 The above steps are also attached to the Emotional Rite of Passage activities. Choose 1 out of the list of 9 different activities and let me know how you get on.
You can leave your comments on the Parenting Live on Facebook and Youtube at 8 pm, leave a comment on my Instagram page or email me directly at ruth@thelibertycoach.com.
Thank you for reading my blog.
Click Here to View The Video That Accompanies This Blog Post Where Ruth Shares Her Experience & Favourite Techniques With You- To Help Improve Relations At Home By Discussion and Examples Of Methods and Strategies Developed Around Strengthening Families Strengthening Communities Core Concepts and Goals .
Ruth Carter The Liberty Coach.